Double-wall glass shaker for making matcha and brewing leaf teas
BODY MATERIAL: double borosilicate glass. Dishwasher safe
LID: seasoned bamboo, PP, stainless steel, silicone. Do not wash in the dishwasher
INFUSER: stainless steel
VOLUME: 320 ml
DIMENSIONS: 22,5 cm x 7 cm
Secure transaction
pay via PayPal, Apple Pay, Google Pay
QUICK DELIVERY
we ship within 24 hrs
FREE DELIVERY
when you spend £30
SUBSCRIBE & SAVE
5% on tea and matcha
GLASS MATCHA SHAKER
With Moya Matcha Glass Shaker you can prepare your matcha incredibly fast: just add matcha to your liquid of choice (water, juice or milk), shake & go! It is a perfect travel & training companion and its double glass walls allow you to prepare matcha cold or hot. If you're drinking matcha to boost your energy, speed up metabolism or help focus your mind on the task at hand: Glass Matcha Shaker allows you to do drink your matcha hassle free, anywhere at anytime. For matcha preparation: remember to use water of temperature no higher than 80 °C as boiling water can affect some of the beneficial constituents found in matcha.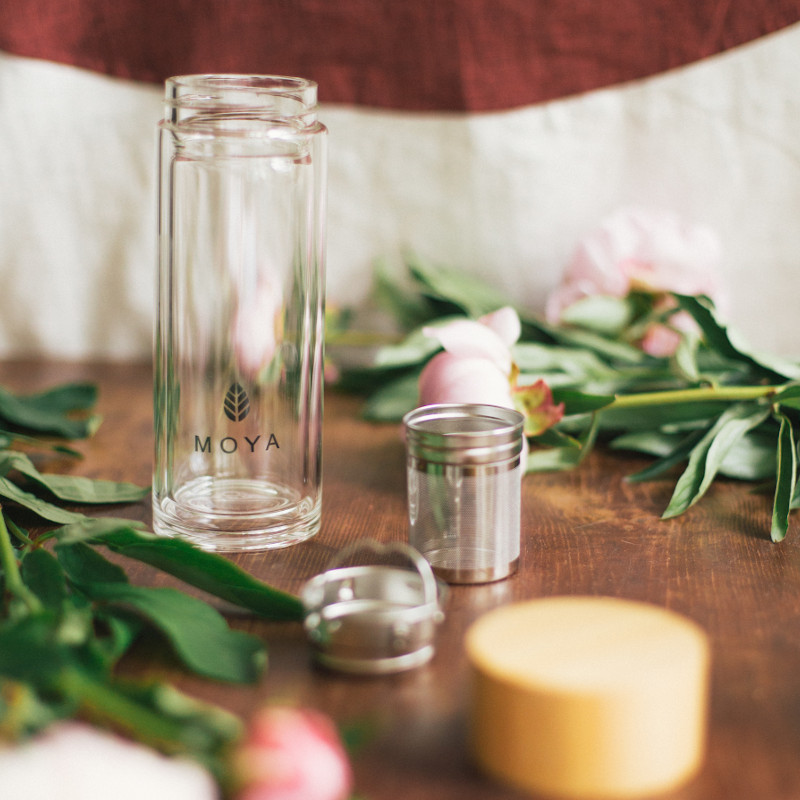 The Glass Matcha Shaker is best used with Moya Matcha To Go! uni-dose sticks, a handy version of Moya Matcha Traditional, a well balanced, high quality grade of our matcha from 1st and 2nd harvest. Thanks to its large infuser it also works great for infusing Moya leaf teas and all other kinds of teas. The double walls of the shaker will help keep the tea hot for a very long time.
HOW TO PREPARE MATCHA IN GLASS SHAKER?
| | |
| --- | --- |
| | Preparing matcha with Moya Glass Shaker is very easy. Just add matcha to your liquid of choice: still water, juice or any kind of milk, close firmly and shake vigorously for 10 seconds. Your matcha is ready! |