Moya Matcha Traditional
organic green tea
£10.40 / 30 days – £65.95
COUNTRY OF ORIGIN: Japan
TASTE: balanced with a hint of bitterness
RECOMMENDED FOR: matcha ceremony, with hot, cold water, matcha latte, matcha lemonade, matcha cocktails
INGREDIENTS: 100% organic matcha green tea from the 1st and 2nd harvest
Secure transaction
pay via PayPal, Apple Pay, Google Pay
QUICK DELIVERY
we ship within 24 hrs
FREE DELIVERY
when you spend £30
SUBSCRIBE & SAVE
5% on tea and matcha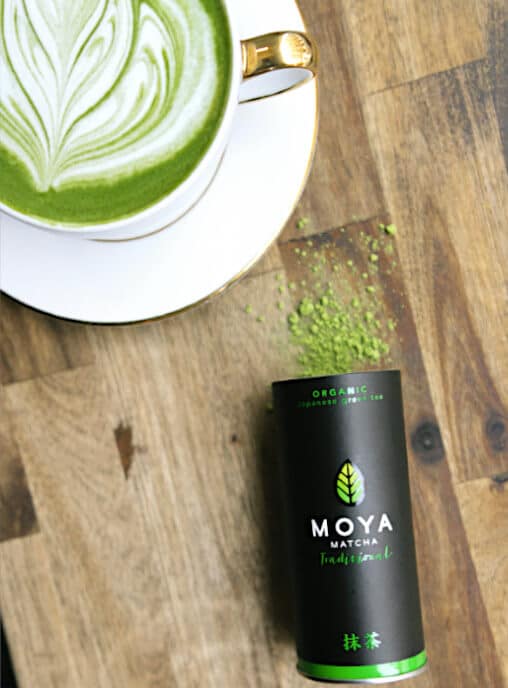 ​MATCHA PREPARATION
| | |
| --- | --- |
| | The traditional way to prepare matcha comes from the Japanese Tea Ceremony. It involves using a matcha bowl, a bamboo whisk- chasen and a bamboo spoon- chashaku. Place 2 chashaku spoons of matcha (1,5g) in a matcha bowl and pour 100ml of hot water (80 °C). Chasen in hand, vigorously whisk your matcha from the wrist in m-shaped, not circular, motion. In about 20 seconds your bowl should be filled with a perfect jade-green foam. You can add more water now if you like your matcha to be less strong. |
| | Mixing your matcha with a milk frother is just as easy. Add a flat teaspoon of matcha (1,5g) to a cup or glass and pour over with 100ml of hot water. Mix well and add more water. 1 teaspoon will usually give you 200-250ml of matcha drink. Just like with coffee, some people like to drink a strong matcha espresso, others prefer to add more water. You can also mix matcha with juice or milk. |
| | You can prepare your matcha incredibly fast in a Moya Glass Shaker or in a regular bottle: just add matcha to your liquid of choice (water, juice or milk), shake & go! |
| | Matcha Latte Preparation: Mix one teaspoon of matcha with a small portion of hot water. Add hot vegetable or cow milk. You can sweeten your matcha latte with a spoon of honey, maple syrup or agave nectar. |
Watch how Hitomi Saito, cofounder of Moya Matcha, prepares perfect matcha.
MOYA MATCHA TRADITIONAL
High quality organic matcha with a balanced rich bitter-sweet taste, creamy texture and malachite green colour. Its full-bodied flavour makes it ideal to drink on its own but also in lattes, smoothies and lemonades. It is obtained in the 1st and 2nd harvest from tea plants that are specially shaded from direct sunlight. This process results in higher chlorophyll and L-Theanine contents and a richer, greener color. The fresh leaves are then collected, dried and ground to powder.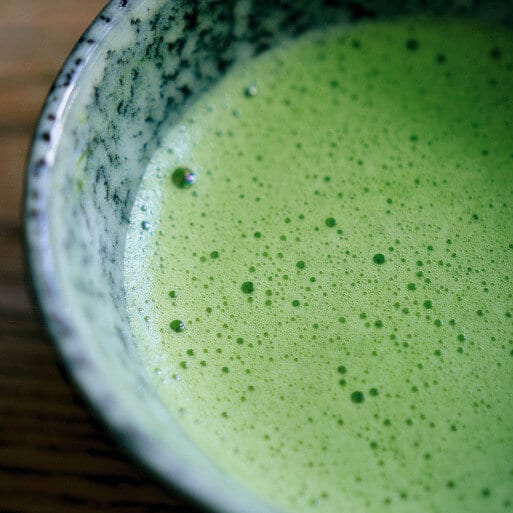 Moya Matcha Traditional is grown in the Uji region of Kyoto Prefecture, known for the cultivation of highest quality green tea for over 800 years. The Uji region is famous for its fertile soils and clean water. The green tea plants there have ideal conditions for growth thanks to hills providing good sunlight, frequent mists that protect delicate leaves from frost and high amount of rainfall.  Moya Matcha is meticulously cultivated and harvested on small family-owned organic tea fields. It is then processed locally in Japan and dispatched in small batches to assure peak freshness for all our grades. This helps preserve all the qualities of the tea leaf and maintain high levels of minerals and antioxidants.
Learn more about matcha properties.
Moya Matcha grades differences
MOYA MATCHA

Grade:
Traditional

Daily

Harvest:
I
I i II
II i III
III
Green colour:
Aroma:
Umami:
Bitterness:

RECOMMENDED USAGE:

matcha ceremony
 
 
with hot/cold water
 
 
matcha latte
 
 
matcha lemonade
 
 
matcha cocktails & drinks
 
 
ice cream, pastries & sweets