Moya Matcha Traditional
starter set Kaigan
Matcha Traditional Starter Set is a perfect set for all adepts of tea and the traditional Japanese matcha tea ceremony also called "The Way of Tea". It's also a great gift for those who are just starting their matcha journey.
Matchawan – handmade ceramic matcha bowl
Secure transaction
pay via PayPal, Apple Pay, Google Pay
QUICK DELIVERY
we ship within 24 hrs
FREE DELIVERY
when you spend £30
SUBSCRIBE & SAVE
5% on tea and matcha
MOYA MATCHA TRADITIONAL 30g
High quality organic matcha with a balanced rich bitter-sweet taste, creamy texture and malachite green colour. Its full-bodied flavour makes it ideal to drink on its own but also in lattes, smoothies and lemonades. Moya Matcha Traditional is obtained in the 1st and 2nd harvest from tea plants that are specially shaded from direct sunlight. This process results in higher chlorophyll and L-Theanine contents and a richer, greener color. The fresh leaves are then collected, dried and ground to powder.
MATCHA BAMBOO WHISK CHASEN
Traditional bamboo whisk or "chasen" is an indispensable tool of the Japanese matcha tea ceremony. The fine, handmade prongs are carved out in a single piece of bamboo. When using a chasen to whisk matcha it is best to keep a loose and relaxed wrist and make rapid zigzag motions in the shape of letter "W" or "M" – this helps to give matcha the ideal frothy texture.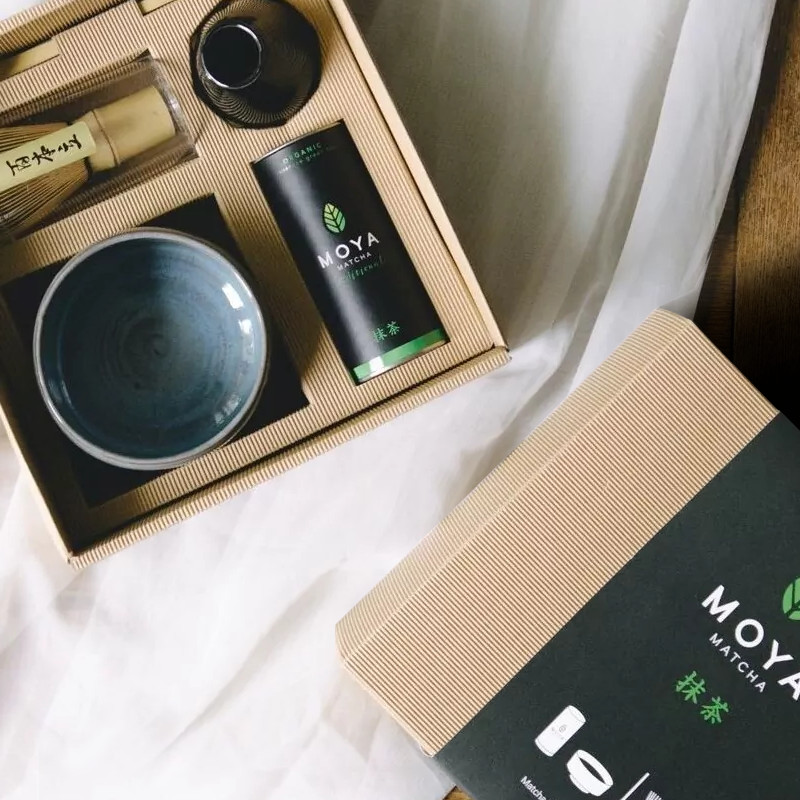 MATCHAWAN KAIGAN
The Kaigan matchawan is a traditional cup for preparing and drinking matcha. It is hand-made of clay with lava particles, which gives it irregular freckles, unique for this material. The bowl has a matte finish, resulting in a minimalist, raw character. The matchawan's uniqueness is also achieved by a geometric cut through the cup, dividing it into two parts: volcanic grey and mesmerising turquoise. The wide bottom of the cup is perfect for preparing matcha with a chasen ‒ a bamboo whisk used traditionally in the Japanese tea ceremony.  
The matchawan was hand-crafted by a local pottery business in United Kingdom. 10 years ago Natasha, the pottery artist changed her career and followed her dreams, finding the fulfilment in creating ceramic products. Her passion, effort and attention to detail attracted local shops, cafes and yoga studios. Natasha's work has been recognised by international magazines such as Elle Decorations and was showcased in a vegan cooking handbook. 
As this is a handcrafted product, dimension and appearance may vary slightly.