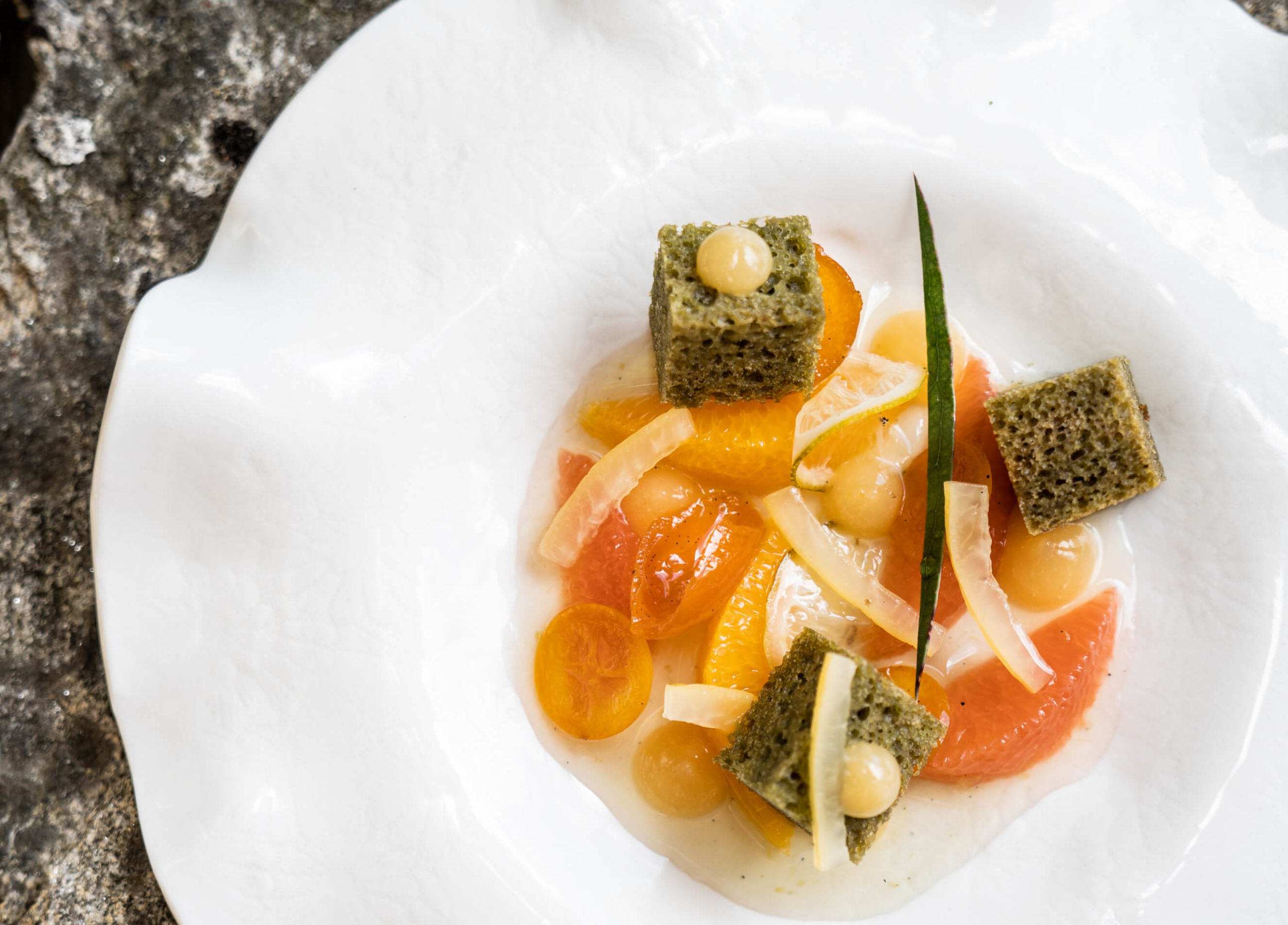 The renowned chef Alexandre Couillon, founder of La Marine Restaurant awarded with 2 Michelin stars and Chef of the Year according to Gault&Millau France, known for the French edition of Chef's Table chose Moya Matcha for his recipes prepared in collaboration with MoiChef. We're extremely excited that Alexandre appreciated Moya Matcha for its organic quality and taste. In his unique recipe, the matcha umami flavor is reinforced with refreshing citrus and eucalyptus syrup.
Matcha cake by French chef Alexandre Couillon
Serves 4
Time: 30min preparation + 1h 10 min cooking
Ingredients for matcha cake with citrus and eucalyptus syrup:
50 g butter
12,5 g milk
25 g honey
37,5 g cream
1 big egg
60 g sugar glaze
5 g yeast
Pinch of salt
75 g flour
7,5 g Moya Matcha Daily
0,5 cl water for syrup
Eucalyptus leaf
1 orange
Citrus fruits raw: oranges, clementines, grapefruits
Citrus fruits cooked: kumquats, tangerines, lemons
Recipe for matcha cake with citrus and eucalyptus syrup:
Pre-heat the oven to 175°C. Melt butter in a dish – remove it from the fridge 2 hours before preparing the cake or heat it lightly over a burner. Add honey, eggs, milk and cream one by one to the melted butter, stirring constantly. In a separate dish mix the dry ingredients: caster sugar, yeast, salt, flour and matcha. Stir again and slowly add them to the liquid ingredients, mixing until combined to a smooth mass. Transfer the batter into a baking dish smeared with butter and flour. Bake for about 40 minutes without browning.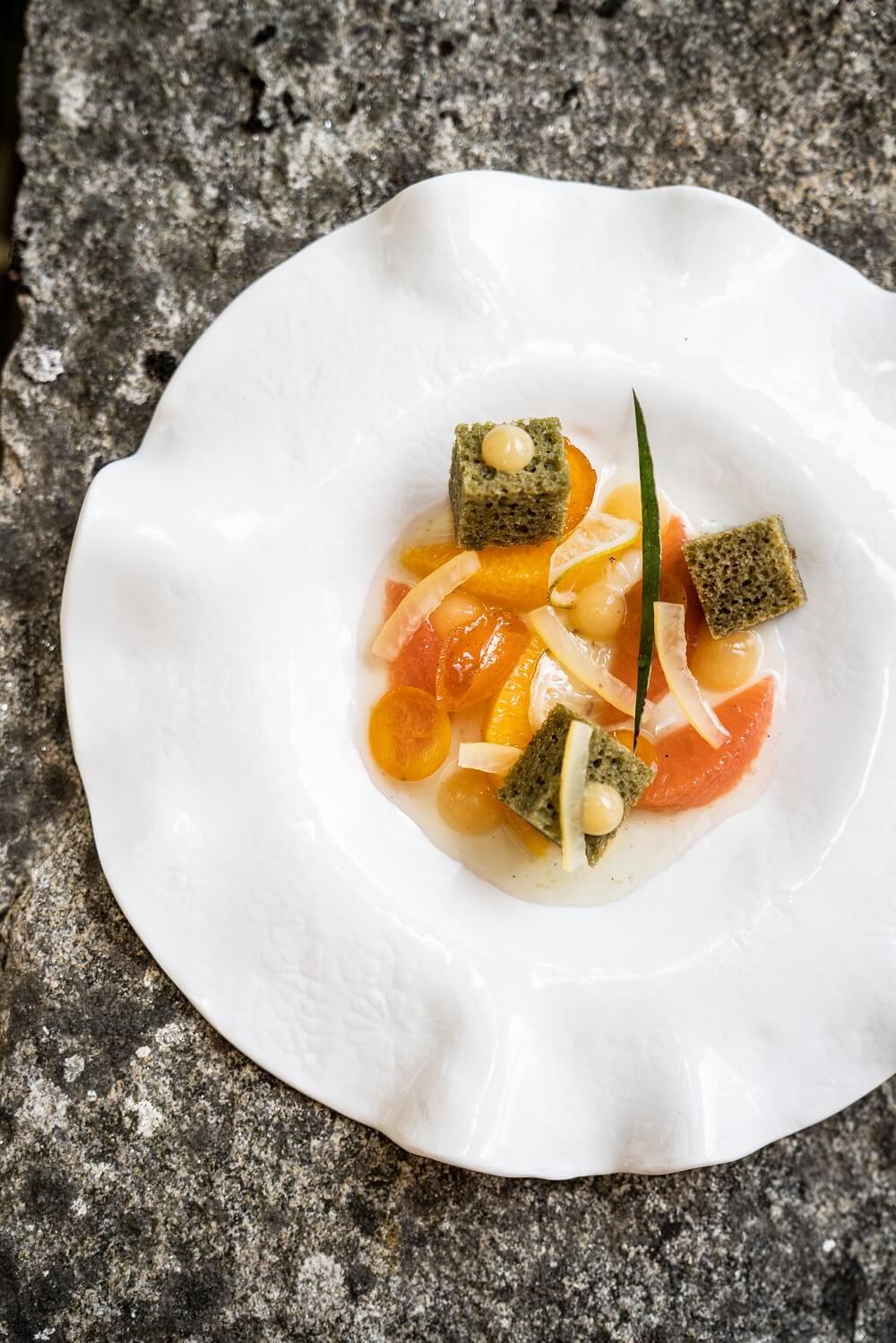 Citrus fruits:
Stage two. Pulp of oranges and cooked citrus fruit. Make small holes in the orange. This will speed up its blanching later.
Depending on the selected fruit, cut the largest (e.g. lemon) into thin slices and tiny pieces. Cut in half smaller fruits, such as kumquats.
Put chopped citruses in a pan with cold water for blanching. Bring the water to a boil, then dry the fruit. Repeat this point from beginning to end at least twice.
Then slice the oranges into quarters, and set aside the remaining raw citruses.
Make syrup by heating water and sugar in a pan. Add orange quarters, slices of lemon and pieces of other fruit. Cook them in syrup for about 30 minutes. Then separate the syrup from the fruit.
Mix the orange quarters in a food processor, then pour through a strainer to get a nice pulp, which you will use for dressing.
Place eucalyptus leaf into the prepared syrup and cook for 30 minutes. Set the finished eucalyptus syrup aside.
Peel raw citrus fruit to get a clean flesh without the white pith.
Dressing:
Lay the cooked and raw citrus fruit on the bottom. Pour the eucalyptus syrup over the fruit. Cut the cake into pieces, place them on the fruit and add orange pulp.
Photo: Anne-Claire Héraud