Secure transaction
pay via PayPal, Apple Pay, Google Pay
QUICK DELIVERY
we ship within 24 hrs
FREE DELIVERY
when you spend £30
SUBSCRIBE & SAVE
5% on tea and matcha
Handy set of matcha sticks with a slick double-wall glass shaker for making your matcha on the go. It's perfect way of preparing your matcha during long office hours, while travelling or before workouts. Each set contains a Moya Matcha Glass Shaker with Moya Matcha To Go! and comes in two versions: with 24 or 48 uni-dose sticks of matcha.
MOYA MATCHA GLASS SHAKER
With Moya Matcha Glass Shaker you can prepare your matcha incredibly fast: just add matcha to your liquid of choice (water, juice or milk), shake & go ! It is a perfect travel & training companion and its double glass walls allow you to prepare matcha cold or hot. If you're drinking matcha to boost your energy, speed up metabolism or help focus your mind on the task at hand: Glass Matcha Shaker allows you to do drink your matcha hassle free, anywhere at anytime. Glass Matcha Shaker comes equipped with a steel infuser that allows you to prepare regular leaf tea as well and its double glass walls will help keep the tea hot for a long time. For matcha preparation: remember to use water of temperature no higher than 80 °C as boiling water can affect some of the beneficial constituents found in matcha.
Volume: 400ml, Size: 22,5cm x 7cm.
Body: Borosilicate double glass.
Lid: Outside made of Bamboo wood. Inside made of plastic and stainless steel. Silicone seal included (do not wash in the dishwasher).
Infuser: Stainless steel.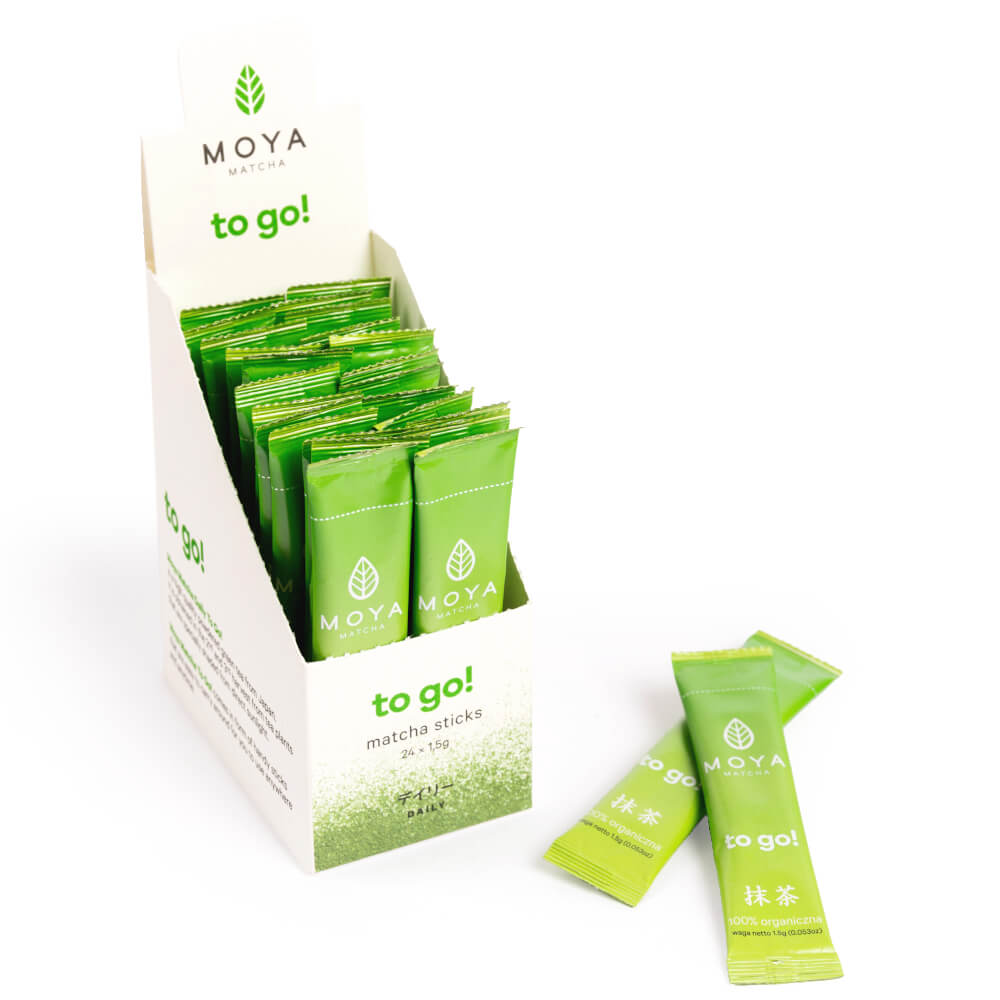 HOW TO PREPARE MOYA MATCHA TO GO!
You can prepare your Moya Matcha To Go!  incredibly fast in a Moya Glass Shaker or in a regular bottle:
just add matcha to juice, water or milk & shake it vigorously for 5 seconds.

Shake until all the matcha dissolves and a characteristic thick foam is formed on the surface.

Your matcha is done and ready to go!
To prepare Matcha To Go! you can also use a matcha bowl (matchawan) and a whisk (chasen), or milk frother.
MOYA MATCHA TO GO! DAILY SACHETS
Moya Matcha To Go! is a handy form of organic Moya Matcha Daily packed in uni-dose sticks that can be prepared hot or cold. Moya Matcha Daily is obtained in the 2nd and 3rd harvest from tea plants that are specially shaded from direct sunlight. This results in higher chlorophyll and L-Theanine contents and a richer, greener color. The fresh leaves are then collected, dried and ground to powder. Moya Matcha Daily has a stronger and more bitter taste compared to higher grades of matcha. It's a perfect choice for green tea enthusiasts and ideal ingredient for smoothies, ice-cream and baking.
Moya Matcha To Go! is packed in boxes containing 24 sticks with 1,5g of organic matcha in each.
Moya Matcha Daily is grown in the Uji region of Kyoto Prefecture, known for the cultivation of highest quality green tea for over 800 years. The Uji region is famous for its fertile soils and clean water. The green tea plants there have ideal conditions for growth thanks to hills providing good sunlight, frequent mists that protect delicate leaves from frost and high amount of rainfall. Moya Matcha is meticulously cultivated and harvested on small family-owned organic tea fields. It is then processed locally in Japan and dispatched in small batches to assure peak freshness for all our grades. This helps preserve all the qualities of the tea leaf and maintain high levels of minerals and antioxidants.
Learn more about matcha properties here.