Matcha chocolate Bio
with raspberries 80g
INGREDIENTS: Moya Matcha Daily (2,5%), cocoa butter, sugar, skimmed powdered cow milk, freeze-dried raspberries (1%), NON-GMO soy lecithin, Dry cocoa – not less than 40%.
NET WEIGHT: 80G
COUNTRY OF ORIGIN: Lithuania
100% organic
100% Gluten-free
Secure transaction
pay via PayPal, Apple Pay, Google Pay
QUICK DELIVERY
we ship within 24 hrs
FREE DELIVERY
when you spend £30
SUBSCRIBE & SAVE
5% on tea and matcha
The delicate taste of this handmade white matcha chocolate is made possible by a combination of Moya Matcha Daily, raspberries and cocoa beans butter.  We love this chocolate for its pronounced "matchaness".  The taste of matcha is not overwhelmed by superfluous sweetness as the chocolate artisans of the La Naya factory spare no matcha in production of these fabulous looking bars. The wild raspberries give this chocolate a subtle fruity aftertaste known to those who have tried our popular matcha cheesecake recipe.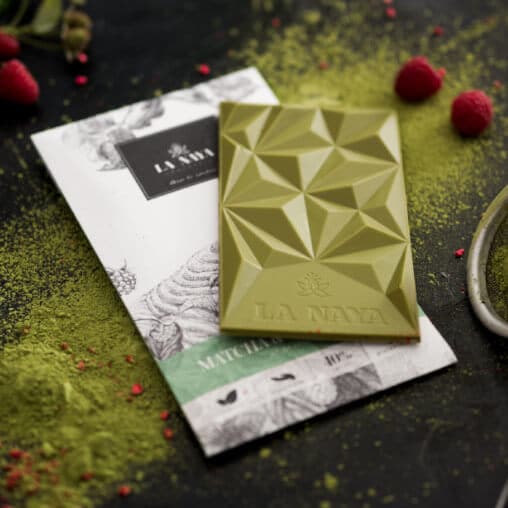 Of all the matcha chocolates available and produced with our matcha we fell the most in love with the stunning La Naya chocolate and its with great pleasure that we share them with you.  All ingredients in this unique matcha chocolate bar are certified organic and gluten-free.
La Naya is a boutique chocolate factory located 20km outside of Vilnius, the capital of Lithuania.  All chocolates produced by La Naya are 100% certified organic.  Other chocolates produced by La Naya aside of Matcha chocolate with raspberries include: Coffee & roasted coconut flakes, Strawberries, cinnamon & chili, Pistachio & cocoa nibs, Honey & bread crumbs, Orange & juniper.