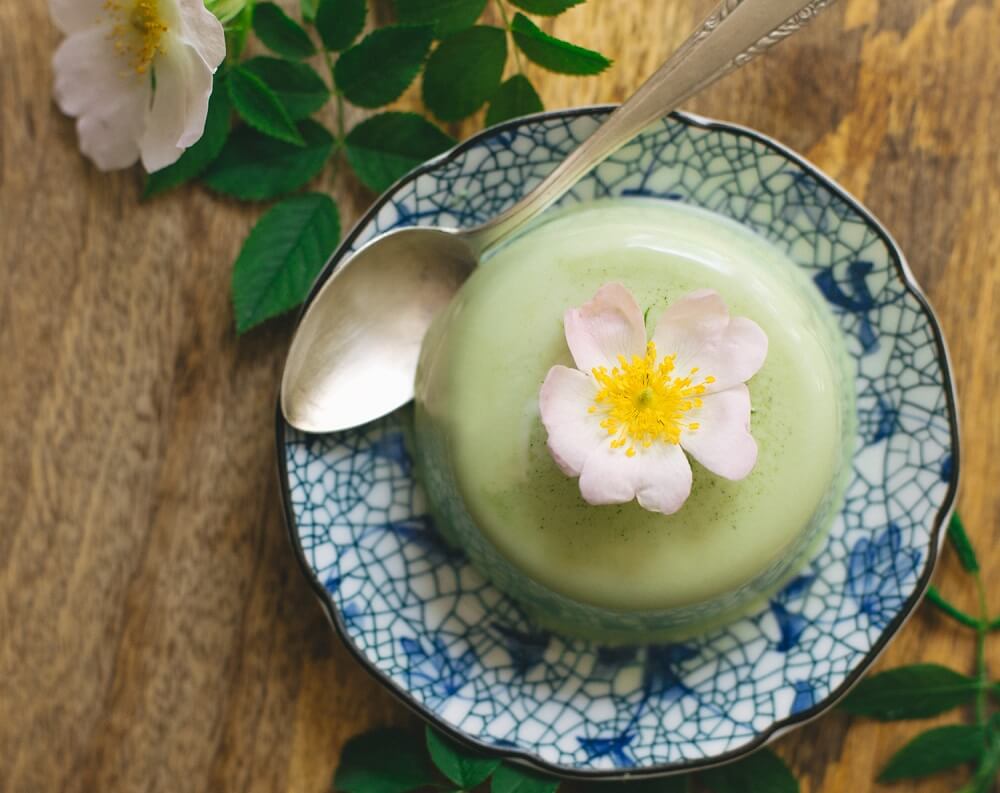 One of less known desserts with matcha tea is green panna cotta. Panna Cotta is a famous Italian dessert with its origin in Northern Italy, which in this changed formula looks equally phenomenal and tastes equally delicious. Chilled and decorated with fresh flowers, panna cotta with matcha or strawberries is perfect for an elegant dinner for two or a family lunch. You can also enjoy it by yourself – it's really worth it! Because matcha is added after all other ingredients have been heated up, it does not lose its healthy properties.
Matcha Green Tea Panna Cotta
Serves 4-6
Time: 30 minutes + 3 hours in the fridge
Ingredients for matcha panna cotta:
Recipe for matcha panna cotta:
Mix 3-4 Tbsp milk with both types of matcha until smooth. Pour the remaining milk into a heatproof dish, add gelatine powder and mix well. Heat slowly in a water bath until gelatine dissolves. Set aside. In the meantime, melt the butter in a saucepan and let it get slightly brown, with a pleasant nutty fragrance. Add heavy cream, sugar and salt, and slowly heat them together until almost boiling. Turn of the heat and mix in the matcha mixture, as well as milk with gelatine. Stir well and pour the mixture to the prepared ramekins/moulds. Refrigerate for 3 hours in order for panna cotta to set. To serve them on little plates, put each mould in hot water for 5 seconds (be careful not to let it get inside the dish!), then turn it upside down to let it slide out. Serve matcha green tea panna cotta with fresh flowers or your favourite fruits.